All members of the Penn community now can initiate a meal between students (undergraduates & graduates) and mentors (i.e. current or past professors, teaching assistants, advisors, RAs, PHINS, Peer Advisors, and members of Penn's professional staff). The Penn Mentor Meals Program encourages students (undergraduate & graduate) and their mentors to engage in intellectual or casual conversation outside of the classroom and simultaneously provide them with the opportunity to do so free of charge over lunch or dinner.
The program options range from 1-on-1 experiences to large meals organized for classes and groups up to 100 students. Lunch is served at University Club at the Inn at Penn. We are only accepting reservations from 11:30am to 2:00pm for lunch Mondays through Thursdays. Dinners at dinning cafes across campus are available by request only. Please contact Ray Franckewitz, rayf@upenn.edu, to do so.
The Penn Mentor Meals Program is now open for booking reservation! Read below to find instructions on how to book reservation, and the link to the reservation form.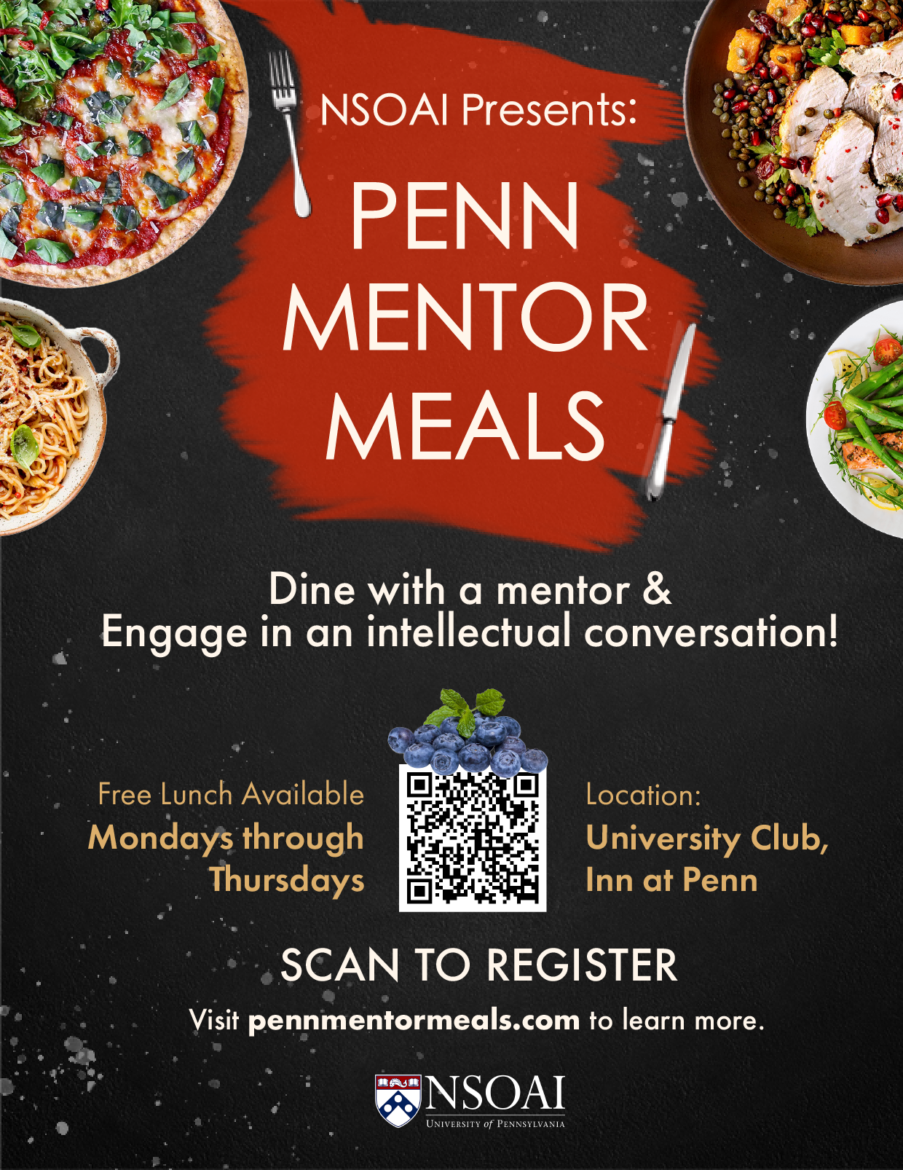 Group Sizes
Small Groups (maximum of 4 participants including 1 Faculty/Mentor)
Large Groups for Faculty Hosted Meals Only (more than 4 participants including 1 Faculty)

Up to 12 guests in University Club, Lenape Room (Lunch only)
Up to 50 guests in University Club, Hourglass Room (Lunch only)
Up to 100 guests in Dining Cafes (Lunch & Dinner)
Guidelines
One individual submits the registration form for the group.
A list of all invited guests (including name and email) must be supplied at least 1 week prior to your selected meal date.
Students can participate as a host/guest for a maximum of 5 meals per semester.
Faculty/Mentor Hosts are limited to 1 meal with a specific class/group per semester. Large classes/groups can be split into multiple small group meals.
Penn Mentor Meals are available Mondays through Thursdays.
Registration will permit you access to the University Club.
Please remember to stay home if you don't feel well.
Other Meal Option for Faculty Hosts